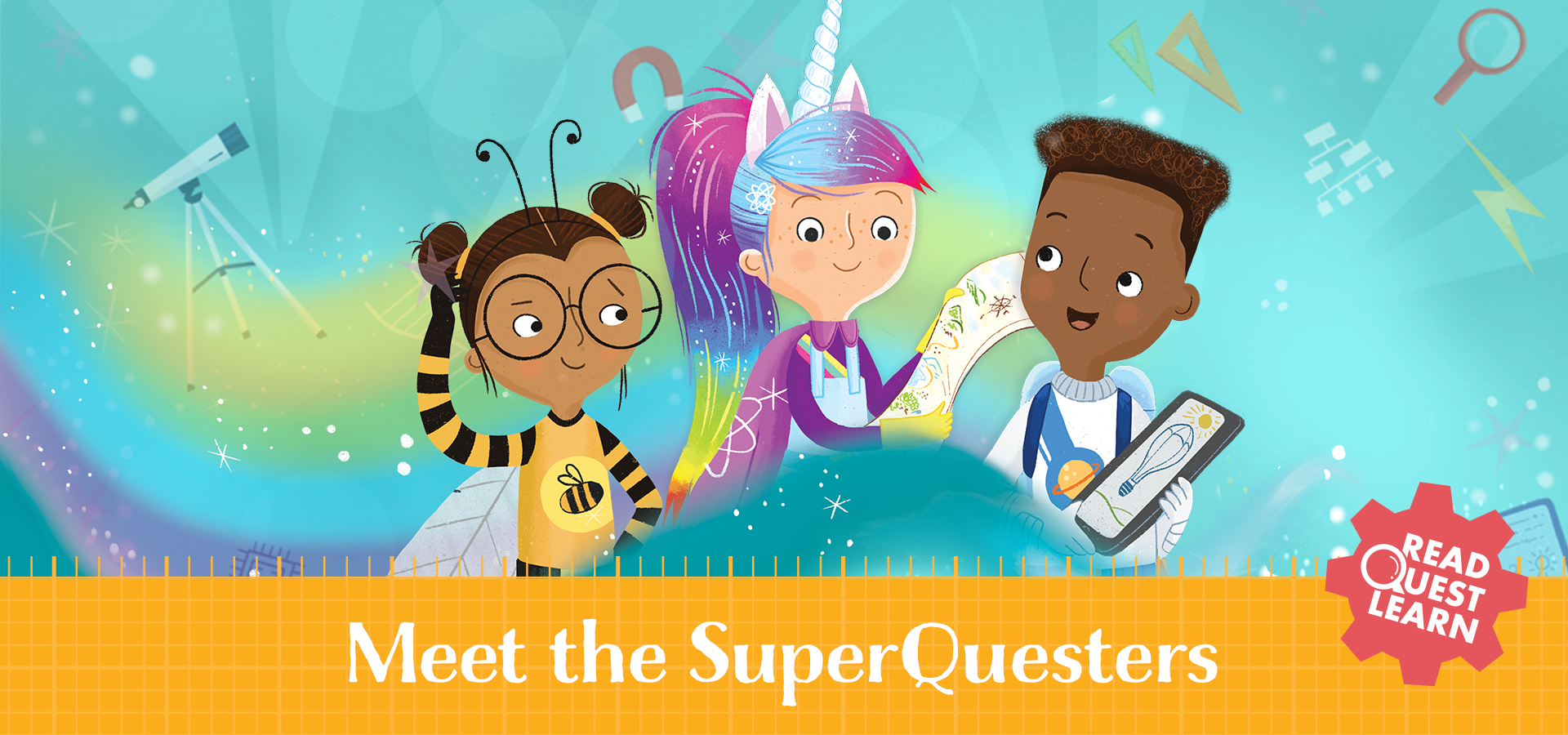 Meet the Super Questers
LILLI, BEA and LEO are bright and curious eight year-olds who love going on adventures and solving problems. They share a special secret…When they need help finding the answer to challenging problems, they turn into SUPERHEROES! Meet the superhero gang, their sidekicks and some of the goodies – and baddies – they meet along the way in the magical kingdom of Questland.
Meet Lilli
… a curious little girl who loves to explore!
LILLI LOVES…finding out about the world around her and how it works.
LILLI'S SUPERHERO CHARACTER is… LILLICORN – a caped crusader with diamond-bright puzzling skills and a swishy rainbow ponytail.
LILLICORN'S SUPER POWERS… she is curious and loves to explore. She wants to right wrongs, help others in need and make things better.
STRENGTH: She is happiest when she is finding answers to big questions.
SPECIAL STEM SKILLS: Lilli loves all Science subjects, but her favourite is Chemistry. She likes to experiment with liquids, solids and gases and watch what happens.
HOBBIES: Singing, reading, trying out new doughnut recipes and making cheese. Her pet mouse, Atom is Chief Taster of her new cheese creations.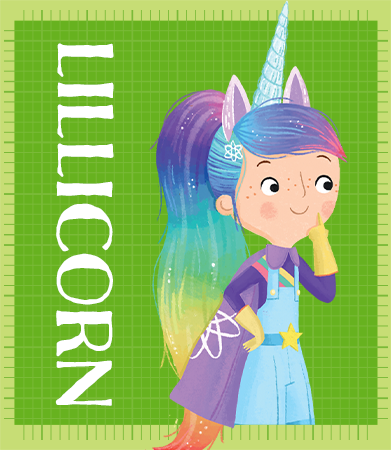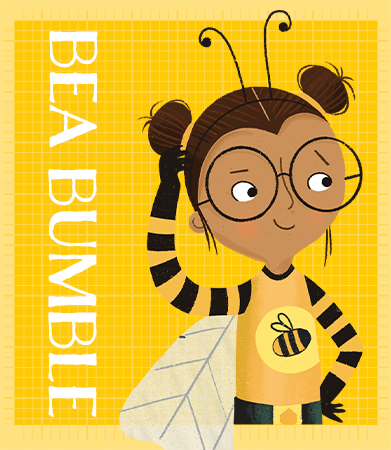 Meet BEA
…
a stripy superhero buzzing with ideas for incredible inventions!
BEA LOVES…inventing and building her own contraptions – her toy robot, B-bot is never far from her side.
BEA'S SUPERHERO CHARACTER is… BEA BUMBLE – a stripy caped crusader buzzing with ideas and always ready to help solve challenges with her best friends.
BEA'S SUPER POWERS … she is sparky and creative and her imagination helps her to dream up her amazing creations. She is a master problem-solver: no challenge is too big or small.
STRENGTH: Bea always learns from her mistakes and faces failure head on.
SPECIAL STEM SKILLS: Bea is always working on new inventions and loves to design, engineer and build her latest creations.
HOBBIES: Dancing to hip-hop, making origami, designing bow ties and coding new programs for B-bot. Bea is currently coding B-bot so he can learn to dance hip hop with her!
Meet LEO
… an awesome astronaut who loves the world of aviation and space travel!
LEO LOVES… maths and all things tech. He is obsessed with outer space and aviation and loves to design anything that flies, like paper planes and drones. His favourite job is programming his trusty toy drone Amelia, so she is always ready to join him on new adventures.
LEO'S SUPERHERO CHARACTER is… LEO ZOOM, an adventurous astronaut who is always ready to explore unknown lands in the name of problem-solving and helping others.
LEO'S SUPER POWER…his lightning speed calculations and coding abilities, and of course, his stylish and super-handy rocket backpack filled with everything they need for any problem-solving adventure in Questland.
STRENGTH: His friends sometimes think his head is in the clouds as he's often gazing at the star constellations and the moon through his telescope, plotting his future adventures, but this is all part of being a super duper problem-solving Super Quester!
SPECIAL STEM SKILLS: Leo is a Maths wizard and super coder. He loves debugging and creating new algorithms to experiment on Amelia. His favourite equation is Einstein's E=mc2 and he loves to code in Python.
HOBBIES: Everything aviation-related, from designing small planes and hot air balloons to building new drones. He is currently working on a new friend for his drone, Amelia.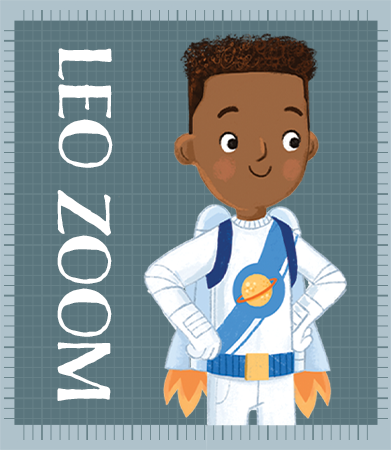 Meet ATOM
… Lillicorn's pint-sized problem solving friend!
ATOM LOVES… playing, hiding and snuggling up on Lilli's shoulder.
ATOM'S SUPERHERO CHARACTER is…ATOM MOUSE, Lillicorn's loyal, quick-witted sidekick.
ATOM'S SUPER POWER… His quick thinking and smart actions help his friends to solve big problems.
SPECIAL STEM SKILLS: He's a practical fixer, always ready for any challenge that comes their way, with his trusty toolbelt to help them out.
Hobbies: He loves helping – and testing! –Lilli's new cheese creations. The smellier the better! He also likes practising yoga, to help calm his mind when tackling new problems.
Meet B-BOT
… Bea Bumble's clever, investigative sidekick!
B-BOT LOVES … being at Bea's side. He loves bow ties and can often be seen wearing different designs (which Bea creates for him when she's not busy working on her latest inventions).
B-BOT'S SUPERHERO CHARACTER is… B-BOT THE ROBOT, who is always there to help Bea Bumble and her friends.
B-BOT'S SUPER POWER… he can stretch and extend his limbs in many different directions, sometimes with hilarious results! His magnifying glass helps the gang to stop and take a closer look at something.
STRENGTH… B-Bot may be small, but he has a big heart. When he gets excited with a new idea, his buttons start flashing yellow, his favourite colour.
SPECIAL STEM SKILLS: B-bot loves to investigate and gather evidence using his special magnifying glass.
HOBBIES: Learning new dance moves. Thanks to Bea and Leo's coding skills, he's already a pretty nifty dancer. Shhh…He sometimes secretly pretends his magnifying glass is a microphone and has a good sing when no one is around!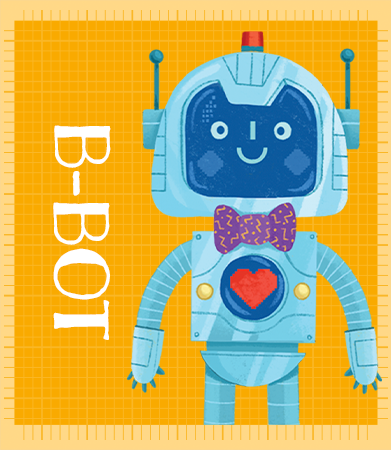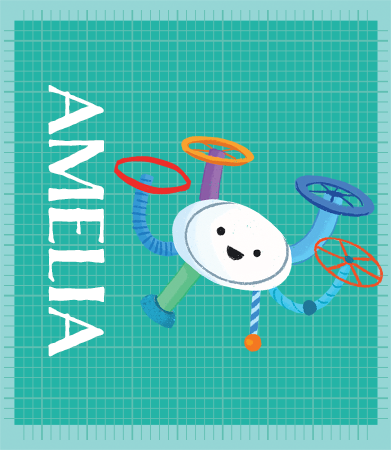 Meet AMELIA
… Leo Zoom's little buzzing data-collecting sidekick!
AMELIA LOVES… Amelia drone is a cute and colourful toy drone made from recycled parts. Leo often sends her on little flying adventures around the neighbourhood, checking in on friends and neighbours.
AMELIA'S SUPERHERO CHARACTER IS…AMELIA THE DRONE, named after her hero, Amelia Earhart.
AMELIA'S SUPER POWER…she travels with the gang, guiding the way with her special aerial views and collecting data with her many sensors.
STRENGTH…Amelia loves to help the team understand what they need to do, to solve each quest, and often gives them helpful hints.
SPECIAL STEM SKILLS: Amelia is expert at collecting important data, using one of her many sensors.
HOBBIES: Visiting air shows with Leo and admiring planes dancing through the sky. Her dream is to join an air show performance one day.
Meet Lord Grumble and his loyal Snapettes
…the chief baddie of Questland
Lord Grumble is always causing trouble for the people of this marvellous and magical land. He's selfish and lazy, constantly grumbles and only ever looks out for himself.
Nothing makes him happy, and seeing the SuperQuesters in Questland makes him very cross – they always seem to outsmart him by using their creativity, teamwork and STEM smarts.
He's usually seen with his loyal subjects, the Snapettes. These furry little creatures are just as selfish, greedy and grumbly, and they will do whatever they can to prevent the SuperQuesters from solving their quests.
A little known fact: The Snapettes love seafood and Lord Grumble is partial to blackberry pies!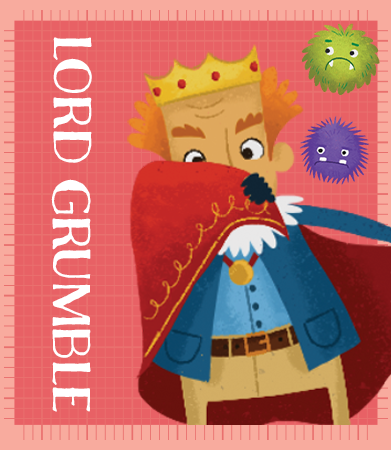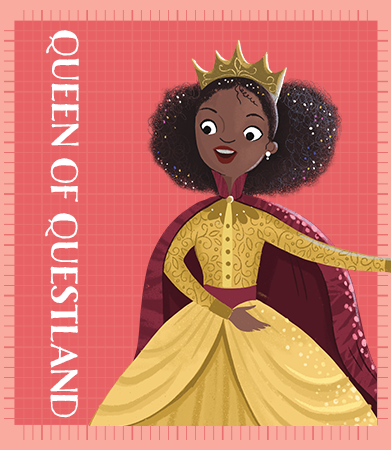 Meet The Queen of Questland
…the righteous Queen who oversees the magical kingdom of Questland.
She is calm, caring and regal and loves Questland and its people deeply.
She trusts the SuperQuesters to help solve some of the biggest challenges facing Questland. Whether it's helping to track down the stolen sun or finding lost robots, she knows she can count on these problem-solving caped crusaders. In return, she helps the trio with any scientific problems.
A little known fact: She was one of the first computer scientists in Questland. She also loves ballet and encourages the people of Questland to hold their own talent competitions.